Introduction
After a 95-year-long run of copyright protection, on 1 January 2022, the storybook character Winnie-The-Pooh finally made its entry into the public domain. Following suit, Disney's most popular animated film character, Mickey Mouse who was first seen in the 1928 animated short film Steamboat Willie is also set to enter the public domain in 2024.
Why?
The United States offers copyright protection of 28 years for those works created before the year 1978 with an additional renewal period of 67 years which effectively protects the work for a period of 95 years. And for these iconic characters, that time is up.
What does this mean for Disney?
The rights as well as profits which until recently Disney exclusively enjoyed are now open to the public, paving the way for several variations, spin-offs, and revivals of these works without any legal obstacles or limitations. However, there is a catch.  Over the years, both these characters have seen many changes in their visual appearances.
The original Winnie-The-Pooh character created by author A.A. Milne and illustrator E. H. Shepard in 1924 surprisingly did not don his present-day counterpart's iconic red cropped t-shirt. It was in 1930 when American Producer Stephen Slesinger purchased the merchandising rights to Pooh, that he introduced the red t-shirt. Disney also adopted the red t-shirt when it purchased the merchandising rights from him later in the 60s.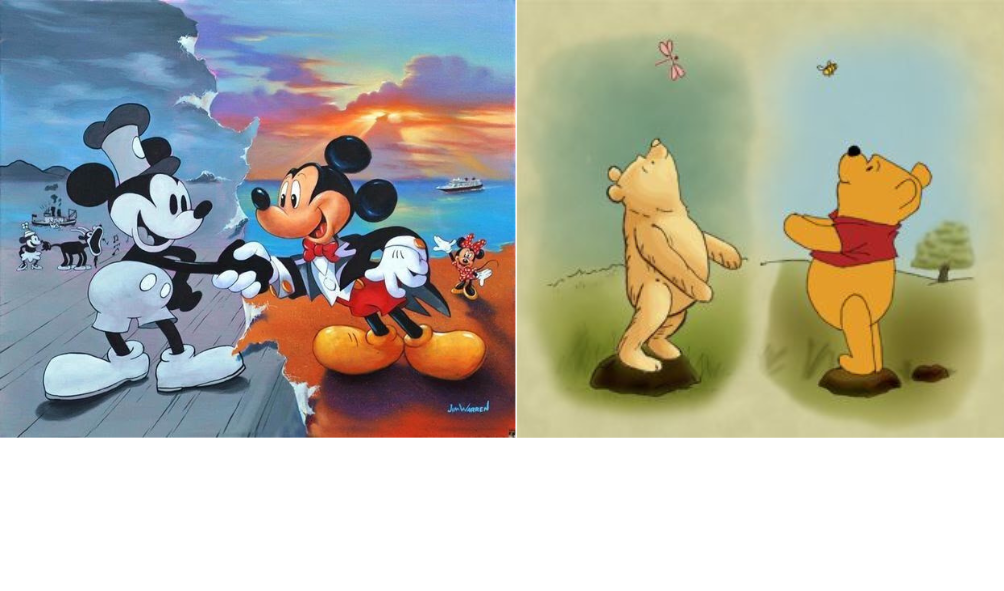 Similarly, the Mickey Mouse character depicted in Steamboat Willie has seen numerous visual alterations.
The catch here is that only the original version of the characters, i.e., their original appearances, have entered the public domain and any newer, and possibly more familiar versions are still protected under copyright. Meaning, the use of Pooh wearing a red t-shirt would still constitute copyright infringement. This, however, hasn't entirely deterred the public. Actor, film producer, and businessman Ryan Reynolds have managed to depict Pooh in his work in a way that causes no infringement. The adored character is also slated to be part of an upcoming horror film.
Since the public domain is considered to be free of the barriers of intellectual property rights, work being released here allows an opportunity for creativity and innovation. However, artists should be meticulous while using these characters in their work as Disney continues to own the copyright to the newer versions of these characters.
Does that mean Disney is backing down completely?
That's far from it. Along with the copyright to the newer versions of these characters, Disney also holds trademark protection for the commercial use of these characters. This would mean that a work has to be clearly distinct from Disney's interpretation of these characters so as to avoid a trademark infringement. Disney also has trademark protection for merchandising purposes, ensuring that profits made through these characters still come Disney's way.
With these iconic characters entering the public domain, new-age storytellers now have the freedom to revive age-old tales with alternate storylines, thereby preserving these beloved children's characters for generations to come.
BY-
OLIVIA MATHEWS
3rd LLB, ILS Law College, Pune